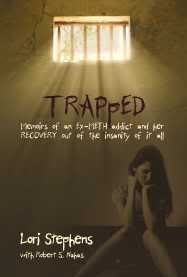 TRAPpED: Memoirs of an EX-METH addict and her RECOVERY out of the insanity of it all
At the age of 14, a girl barely cognizant of responsibility, safety or survival, Lori L. Stephens was thrown out into the street by her mother. This would be the beginning of a life no one deserves to endure, ever.
With nowhere to go, confused and frightened beyond comprehension, she settled in inside of a small washroom of a condo complex. Curled up as small as she could make herself, she lay abandoned, with only her pillow case filled with a few clothes. What happened next can only be adequately described in the pages within, and this was only the beginning.


Through her struggle to stay alive in a world she barely understood, with no lessons about life or warnings, with non-existent parents from a broken home, without support and encouragement or life experiences that might help in understanding right from wrong, good from bad, safety from danger, this young girl met adversity headlong, with no recourse at her disposal.
The memoirs of the next 30 years of her life of drug abuse, with METHAMPHETAMINES as her mainstay, physical violence, rape, conflict with the Law…, are described profoundly in this book. Also, the courage, the will to stay alive, the guts to persevere through an impossible road out of the toughest trap from which one might ever have to escape, Lori Stephens overcomes impossible adversity.
And in result, this woman's strength to overcome "and her heroism to help others do the same can only inspire and encourage every person in their daily lives. This is something to be shared and cheered about, because we all win when someone beats impossible odds. Through their examples, we, ourselves, become fortified and empowered to overcome; we become more willing to help; we become more excited about living life!
This woman's story will amaze you. It will make you realize so many things about yourself. And it will likely be something that you carry with you, for inspiration, for the rest of your life.
EX-METH addict meth memoirs EX-METH addict meth memoirs EX-METH addict meth memoirs
Related Posts: